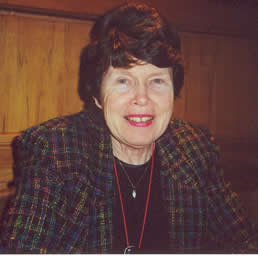 Dame Margaret Sparrow
Margaret Sparrow wurde im Jahr 1935 in Neuseeland geboren und hat die meiste Zeit ihres Berufslebens in der Hauptstadt Wellington verbracht. Sie ist Fachärztin für Sexualmedizin; 2005 beendete sie aus Altersgründen ihre Spitalstätigkeit.

34 Jahre lang war sie auf dem Gebiet der Familienplanung tätig; 1976 nahm sie ein Sabbatical von der Victoria University, um in London eine Ausbildung in Geschlechtskrankheiten zu absolvieren und in England Erfahrungen auf den Gebieten sexuell übertragbarer Krankheiten, Familienplanung und Schwangerschaftsabbruch zu sammeln. In London und in Bombay lernte sie Vasektomien durchzuführen. Nach ihrer Rückkehr begann sie ihre 28jährige Tätigkeit für das Wellington Sexual Health Service und startete eine Vasektomie-Ambulanz, in der sie ca. 7.000 Vasektomien durchführte.
17 Jahre lang führte sie Schwangerschaftsabbrüche am Wellington Hospital durch. 1999 gründete sie gemeinsam mit vier KollegInnen die gemeinnützige Firma Istar Ltd, um Mifegyne (Mifepristone) nach Neuseeland einzuführen.

Derzeit ist Dame Margaret Präsidentin der neuseeländischen Vereinigung für die Reform des Abbruchgesetzes (ALRANZ) und Ehren-Vizepräsidentin der New Zealand Family Planning Association.
Weiters erforscht sie die Geschichte des Schwangerschaftsabbruches in Neuseeland. Ihr daraus entstandenes Buch 'Abortion Then and Now' erscheint demnächst.

Aus ihrer beruflichen Tätigkeit entstand das Interesse am Sammeln von Verhütungsmitteln und Abbruchgegenständen. Seit Februar 2010 wird die 'Dame Margaret Sparrow Contraceptive Museum Collection' im Family Planning National Office ausgestellt. Margaret Sparrow erhielt für ihr Engagement eine große Zahl von akademischen und staatlichen Ehrungen, u.a. wurde sie Member des Order of the British Empire (1987), Distinguished Companion of the New Zealand Order of Merit (2002) und erhielt 2009 den Titel Dame Companion of the New Zealand Order of Merit. Seit 1987 trägt die Wellington Family Planning Clinic ihren Namen.